An official art book for Hogwarts Legacy has received an updated release date, which could also mark the game's release.
The Art and Making of Hogwarts Legacy: Exploring the Unwritten Wizarding World originally had an apparent placeholder date of December 31.
Customers who pre-ordered the book from Amazon UK, however, have received emails saying its release date has been revised to December 6, 2022.
These emails (seen by VGC) and the original list of articles (noted on Reddit) could infer that the game – which is still not officially scheduled for release until "2022" – will be released in early December.
Hogwarts Legacy – Official Gameplay Overview | PS5, PS4
While a game's art book may not necessarily be released on the same day as the game it's based on, Reddit user Aromatic-Adagio2121 points out that Warner Bros.' other major game this year, Gotham Knights , has a similar art book due out on the game's October 25 release date.
Although official Hogwarts Legacy news has been hard to come by, eager fans have pored over old footage and the game's official website to try and find new information.
A fan even managed to access hidden files on the Hogwarts Legacy website, revealing the contents of the game's collector's and deluxe editions.
It's unclear how long this file has been on the website, but it's attached with links to Best Buy and GameStop, suggesting the pre-order campaign for these items could begin soon.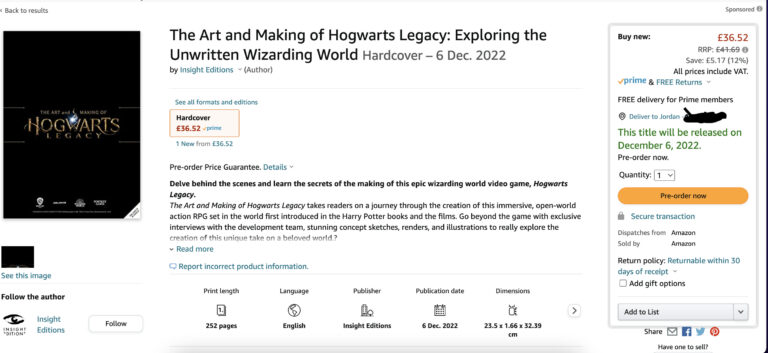 The eagle-eyed members of the Hogwarts Legacy subreddit recently discovered another secret seemingly hidden in plain sight – a glimpse of the game's UI.
As posted on the HarryPotterGame subreddit, menu items appear for as little as a few images.
To be published under Warner's Portkey Games label, Hogwarts Legacy was originally scheduled for release in 2021 on PS5, PS4, Xbox Series X/S, Xbox One, and PC. However, last year Warner Bros delayed the game's release window to 2022.
It recently reiterated plans to release Hogwarts Legacy this year (including a previously unannounced Switch version), as well as Gotham Knights in October.